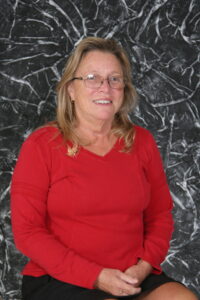 Hi, I'm Patti Hytry, the Head Teacher here at St. Charles School.  My husband, Randy, and I moved to the area about 10 years ago and now live off of Mule Hollow Road, outside of De Soto.
If you had told me that I would spend much of my adult life in a closed room with a bunch of kids—and love it—I would have called you crazy.  Since reading Have Spacesuit, Will Travel in 6th grade, I planned to be part of the space program and walk on the moon.  But God's plans put me in a classroom on Okinawa, and I did love it.  In this left-over from WWII quonset hut, the kids spoke a combination of English and other languages, chased cockroaches on rainy days, and screamed as loud as they could to scare the giant fruit bats in the trees at recess.  Yes, I loved it.
From Okinawa to the Philippines, back to the US and Tucson, Washington D.C., and Florida, my life as a special-forces military wife prepared me for success on my own with my two children.  I followed my new passion and added a teaching degree to my physics degree and was hired by St. Francis Xavier School in Merrill, WI.  I met Randy and we married in 2010.  When his job led him to La Crosse, I applied for the Middle School opening here at St. Charles.  Father Dhein decided to take a chance on me and I have been here ever since. 
And I love it. This little school is supported and loved by the families, and this shows in the vibrant education that is allowed to take place here.  I have come to learn that we are not some "poor little rural school", we are a rich, dynamic school, where our students learn to stand strong in faith, family, and education.