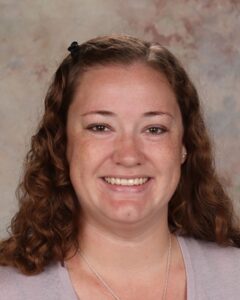 Hello!
My name is Mary Kate Donovan. I'm the youngest child of the 1st/2nd/3rd grade and music teacher at St. Charles, Mariette Donovan. In addition to having the same laugh as my mom, I followed in her footsteps and became a teacher too. I graduated from Viterbo University in 2015. I fell in love with the area and am so happy that I am finally moving back to the beautiful Driftless Area.
After graduating from college, I taught 4K for a year and loved it! I then became the jack-of-all-trades teacher at St. Ann School in Stoughton, WI. I taught 7th grade Math, 6th grade Religion, K-5 Technology, and K-8 Spanish. It was a nice six years working with a variety of ages to grow in so many different subject areas.
Being the 4K and Kindergarten teacher at St. Charles is so exciting for me. Each year, I look forward to getting to work with the young ones as they start their school careers. I enjoy being part of the school family, bringing in some of my Spanish teaching background, and helping the students to find the joy in learning.