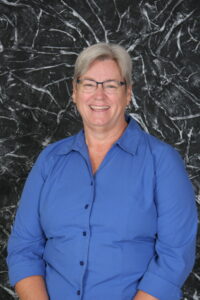 I grew up in Genoa and attended St. Charles Catholic School. I remember listening to Mom and Dad sing all the time and enjoyed when Grandpa would play piano while they sang along. Music has always been a part of my life - piano lessons in 2nd grade, first guitar for Christmas in 7th grade, singing in the St. Charles Choir, and singing and playing guitar in church choirs wherever I moved.
I attended UW-L and received my degree in Elementary Education. I married Dave Donovan in 1981 and we have 3 great kids - Adam, Terry, and Mary Kate. We've lived in IA, OK, NY and finally got back home to WI. I taught 1st grade for 8 years at Immaculate Conception School in Eau Claire and then 3rd grade for 7 years at St. Ann School in Stoughton (near Madison). We then returned to Eau Claire because Dave got a promotion with Xcel Energy and I was lucky enough to get my old job back at IC in my old classroom with 1st graders again! When Dave passed away in June 2020 I moved back "home" to live on my beautiful Mississippi River once again. I LOVE being back!
When I heard St. Charles needed a part-time music teacher/teachers' aide I thought it was tailor-made for me. I have really enjoyed working with the kids!  They are so very kind, fun and hardworking. They truly are a little family of their own - where the big kids watch out for the little ones. Making music with them is fun for me and doesn't even seem like work. I've always taught in Catholic schools, and I like being able to share my faith with the children, and they share their joy, faith and hope with me!