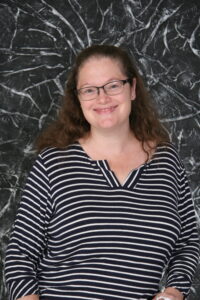 I was born on November 27 at St. Francis Hospital in La Crosse, Wisconsin. I grew up in La Crescent, Minnesota with two sisters and two brothers. I graduated from Aquinas High School and then attended Viterbo University. I graduated from Viterbo with a major in Elementary and Middle School Education and a minor in English/Language Arts.
I met Andrew Raymer in 2000, we were engaged in April 2001. We married in May of 2003 and soon after moved into our newly built home in the Town of Barre. We have been blessed with the birth of our two daughters, Lucille and Evelyn. We also have a five-year-old Doberman Pinscher named Lula, 2 cats named Elsa and Tabitha and two turtles, one map turtle named Coalie and one painted turtle named Paris.
I began teaching at St. Charles in September of 2017 after several years of substitute teaching in the public and private schools in the La Crosse area. I was attracted to St. Charles School because it was a small Catholic school similar to both the school I attended and the school my Grandmother taught at for almost fifty years. I love teaching at St. Charles because of the wonderful students and their very kind families. I love to spread the teachings of our Savior Jesus Christ and feel privileged to be able to teach the word of the Lord along with all the other subjects. I hope to continue teaching for many more years.